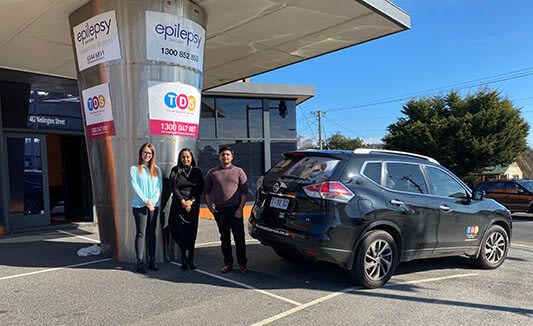 We believe that economic and social participation transform the lives of people living with disability and their local communities.
There's so much Northern Tasmania has to offer our participants; and our participants have so much to offer their communities! So we help foster those connections while helping our participants build capacity and independence.
Commit. Challenge. Collaborate. Create.
We commit ourselves to an ethical practice, one underpinned by honesty, integrity and transparency. 
We challenge complacency in both our participants and ourselves. Count on us for continuous improvement and innovation. 
We collaborate to inspire results—not only with our participants, but with . businesses across Tasmania. We're proud to support the local economy while helping our clients participants reach their full potential.
 We create transformations, not transactions. You're never a number to us, we'll be with you for every step of the way.
The Faces Behind Thrive
Our team shares decades of experience in employment services, consulting and disability care, as well as a passion for making our community more equitable for all. Read our stories—we can't wait to hear yours.
Director of Thrive Disability Services & Carer Support
Shelly is an experienced industry professional with a career spanning over 15 years in full profit, corporate and non-for-profit sector. Shelly has successfully held senior leadership roles delivering state and federal government contracts. Shelly has delivered and achieved an array of successful business outcomes in financial profitability, high performance, robust service delivery models and ethical frameworks. Having a young child living with disability, Shelly holds a personal outlook for positive change and innovation within the disability sector. Shelly is a hands-on leader who is invested in strong organisational governance to having an understanding and interest in each of Thrive Disability Services & Carer Supports clients, goals and outcomes.
Bidur Paudel – Finance & Admin Team Leader
Bidur has a Master of Professional Accounting from Federation University and has completed Diploma of Community Services. He is also a member of Institute of Public Accountants(IPA). He's a passionate, inclusive and open minded people person, giving him the ability to get along with people of all nationalities, cultures, and of differing generations. 
Bidur started his job at Thrive as Disability Support worker and an Administration Consultant and progressed into working as a Team Leader-Finance & Admin. Bidur has been on a journey with Thrive Disability Services since the beginning and embracing the growth, development and strengths based working culture.
Bec Farnell - Operations Coordinator
Prior to joining the Thrive team in 2021 Bec was working in the health sector as an Enrolled Nurse for over 15 years. As a mum to two beautiful children who both have additional needs, Bec has grown more and more passionate about engaging with people with disability and their families. Bec enjoys encouraging people on their journey, and promoting independence, choice, and control. In her spare time Bec is a keen (veggie) gardener and enjoys nature walks, baking and soap making.
Maddy Gunawardena - Operations Coordinator
Madduma Gunawardena known as Maddy, is from Sri Lanka and has moved to Australia in 2016. She holds a Masters in Professional Accounting from university of Charles Sturt, Melbourne honoured with distinction and a Bachelors of Arts from university of Gloucestershire, United Kingdom honoured with a First-Class. She is also qualified in Diploma in leadership and management and Diploma in Community Services.
 Maddy, initially started work as a Disability Support Worker with Thrive, during this time she successfully completed few of our ad-hoc office projects. Her down-to-earth nature and her passion towards work attracted her to a full-time office position. Now, Maddy is thriving with us in Thrive Operations team.